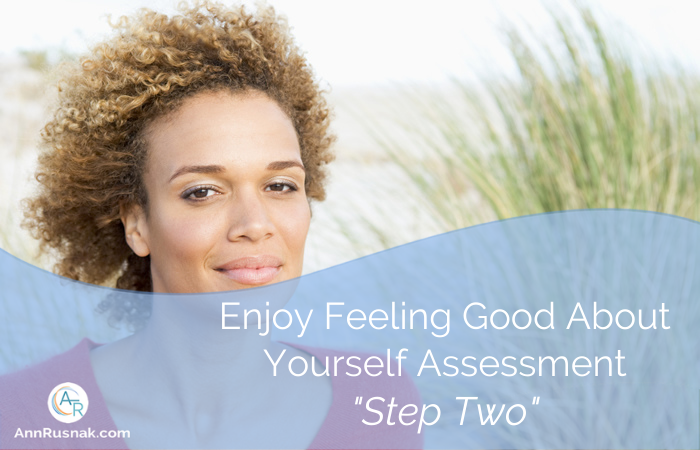 Self-concept exemplifies how you see yourself. It's an important factor in your level of self-esteem and confidence.
Your self-concept determines how you will experience life. The closer you are to your true self… your true ME the happier you will be in life.
Let's continue working on throwing away those false perceptions about yourself.
Step Two: Listing Weakness
IMPORTANT: Your Feel Good Self Concept Assessment must be completed before moving on to step two.
Note: This assessment is a condense excerpt from the book Self Esteem by McKay and Fanning
There is nothing wrong with possessing faults and weaknesses. Everyone comes into the world with them. Let me share a secret about everyone's self-concept: it's perfectly normal to list ways you want to be different. Everybody has their own different wish list.
That list presents a problem for people with low self-esteem and warped self-concept issues. They will use their wish list to magnify their weakness for destructive self attacks.
It's important to rewrite your weakness in a positive and accurate way so your inner critic can't destructively attack you.
It's important to rewrite your weakness in a positive and accurate way so your inner critic can't destructively attack you.
Get a sheet of notebook paper and divide it into two columns. Folding the sheet of paper lengthwise/longwise in your spiral note will suffice.
On the left side write down each item you marked with a minus. Leave about 3-4 lines between each item for your rewrites.
Follow these 4 rules in rewriting your weakness
1. Eliminate all derogatory, uncomplimentary and negative language.
Example: reword screw up paperwork with occasionally forget to fill in items on order forms.
2. Use accurate language
Revise items so they are purely descriptive. Example: fat thighs become 23-inch thighs
3. Use language that is specific rather than general
Eliminate words like everything, always, never, completely, etc. Example: lose everything changes to occasionally loses keys or umbrella.
4. Find exceptions or corresponding strengths
Example: Lousy housekeeper – fact: dished sometimes pile up along with messes in other rooms. I do a major clean-up once a week. – corresponding strength: I enjoy using the time to play games or read to my children.
While this may prove extremely challenging to you, it will make a major step toward changing your negative self concept.
This assessment was an eye-opener and eventually lead to me discovering Imposter Syndrome and perfectionism controlling my life. These two behaviors help back my dreams, especially around money.
Do it carefully and take as much time as you need to complete it.
Once I felt good about all of ME, myMagical Essence™, my life turned around dramatically.
Feel to post questions or thoughts below or better yet, join the join the free Unstoppable Success Group for Women Business Owners.
Step Three of the Feel Good Self Yourself Assessment: you will acknowledge, accept and embrace your strengths.
Stay Unstopulous,