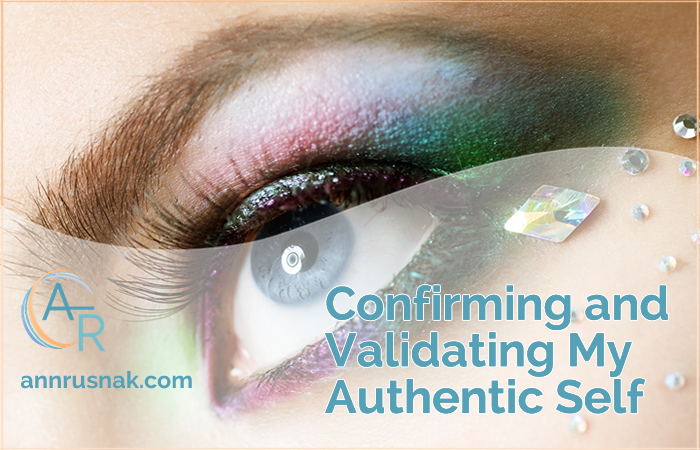 Confirming and Validation My Authentic Self
I debated about closing the doors to my Thinking Outside the Clock business several years before I finally did it.
Instead of following my inner guidance, I choose to allow several people to talk me into keeping the business going even though my heart wasn't in it. If the doors were to remain open, then I needed the business to go to the next level to make it worthwhile.
Hiring a coach to assist me to uplevel the biz became a priority. I found a coaching team with a lot of promise. They required, an interview and complete an assessment process prior to acceptance.
The results of those assessments brought tears to my eyes. It did more than bring tears to my eyes. I could barely talk on the phone. I tried to hold back the emotion in my voice so I could carry on an intelligent conversation with my coach.
How did that assessment validate me?
Despite my best efforts to control my emotions, I couldn't. The waves of anger quickly turned to sobs of relief. I was validated! My authentic self, my core identity was validated! There in black and white in the written words of the results of the assessments…I am validated.
Get Rid of Those Evil Dreams and Goals
When I was a kid, like most kids, I shared my dreams with my parents. Big mistake. I wanted to be wealthy. Yep even at a very young age. I mean very young. In fact I can't remember a time I didn't want to be wealthy. Wealthy looked good to me…still does.
I grew up with the message that "money is the root of all evil."
I also grew up with a lot of extreme emotional and physical abuse about money, and other things.
My parents told me that to aspire to obtain wealth was selfish and/or a self centered attitude. Man, I don't know how many time I was told what a selfish human being I was. And of course that kind of attitude was "a ticket to hell."
Ooops!
That's a totally wrong life pursuit for someone coming from a religaholic family who believes the only honorable pursuit one can achieve is to become a priest…
So double Oops on me!… I messed up again, I came into the world as the wrong sex. No priesthood for me!
Wealth and God were incompatible according to my upbringing and I was therefore totally screwed.
Growing up I received a litany of rules concerning life and money:
"Happiness is not found here on earth."
"All rewards come after you die."
"We're not here to enjoy life."
"Money is evil."
"My dreams and goals came from the devil."
It became my parents mission to save me from myself and my high driving, ambitious personality. My goal from childhood: To become "filthy" "stinking" Rich, was completely unacceptable to my parents.
I just wasn't buying their messages about the evils of money, which drove my parents even more nuts. In fact, one day my father thought I was missing my mother's message that I'd be doomed to hell if I kept pursuing wealth, so he yanked me off the kitchen chair, dragged me to the stove and placed my hand above the flames.
I was totally conflicted between what I felt was my destiny to be wealthy and my needs as a child to please my parents.
The Cruelty of Invalidation
Invalidation is an aggressive and lethal form of emotional abuse. It encourages an individual to believe that their thoughts, beliefs, values or physical presence are inferior, flawed, problematic or worthless.
Invalidation kills creativity, confidence and individuality. Repeated invalidation will cause confusion and distrust of your own emotions. It can fragment your identity – who you think and feel you are. You feel "wrong" as a human being, you begin questioning yourself and you keep asking, 'Is there something wrong with me?'
My parents unknowingly did a lot of damage to my identity. My core identity was very fragmented and it took me over 4 years of intensive therapy to recover my sense of self.
I Knew It …I Knew It…I Knew It!
I stared at the results of that assessment, I finally understood why my parents couldn't remove my money drive.
This particular assessment looked at a person's core values/attitudes…essentially what motivates them. A person's values/attitude determine the WHY of their actions. There are six basic interests or attitudes in all of us.
Theoretical
Utilitarian
Aesthetic
Social
Individualistic
Traditional
It's the top two values/attitudes that are a person's key drivers – what they are most passionate about pursuing.
It's what juices you up…You will feel positive when talking, listening or doing activities that satisfy your top attitudes/values.
My top motivator?
Utilitarian!
The Utilitarian score shows a characteristic interest in money and what is useful. This means that an individual wants to have the security that money brings not only for themselves, but for their present and future family. This value includes the practical affairs of the business world – the production, marketing and consumption of goods, the use of credit, and the accumulation of tangible wealth. This type of individual is thoroughly practical and conforms well to the stereotype of the average American business person. A person with a high score is likely to have a high need to surpass others in wealth.
Catch the word passionate…This is a very high motivator for me.
So, while under my parents' roof, I was literally being punished for being me… did you get that… I'm being punished for being me!!! Have you ever felt that way?
Awareness and Owning It
"He who knows others is learned. He who knows himself is wise." ~Lao Tse
I love that quote.
The unique combination of all of your qualities including your talents, gifts, assets, abilities, interest, skills, insight, experience, memories, beliefs, wisdom and purpose are what make up your true authentic self… your true inner ME. or what I like to call your Magical Essence™
Awareness is the first key to boldly stepping into your Magical Essence, your true core.
Once I figured that out… the next step was to "own" it. To become very comfortable with that part of me. No guilt. No apologies. There are some of us that God created with money as motivating driver. Just like some have blue eyes.
Even as a young girl, I was always doing something entrepreneurial.
I believe God brings us into this world already equipped with natural abilities that will insure our success and happiness when we are able to properly recognize, nurture and develop those abilities.
He gives all of us dreams to use those talents. God never gives a dream without also giving you everything you need to see your dream realized.
God places those talents in us to use for our joy, happiness, self expression and fulfillment.
When my main motivator was denied, I felt miserable and unfulfilled. I also experienced money chaos by pushing money away. When I came to peace and accepted my true self, my Magical Essence, the money finally began to stay in my life.
Even more rewarding is the inner peace, calm and joy I experience no matter what is happening in my life.
Ignoring and denying your true nature can cause stress, anxiety and depression… often leaving you with the feeling something is seriously missing in your life.
There's something special inside all of us. Never underestimate what is inside of you that makes you special!
Sometimes our background teachings program us to feel guilty about desiring money and nice things.
Are you feeling stuck and ready to move your business and life forward. Schedule your complimentary "no strings" attached "Stuck to Unstoppable Breakthrough" session. (limited availability). Let me help you…discover a fresh insight to your next steps to being unstoppable and where you see yourself going if weren't stuck.