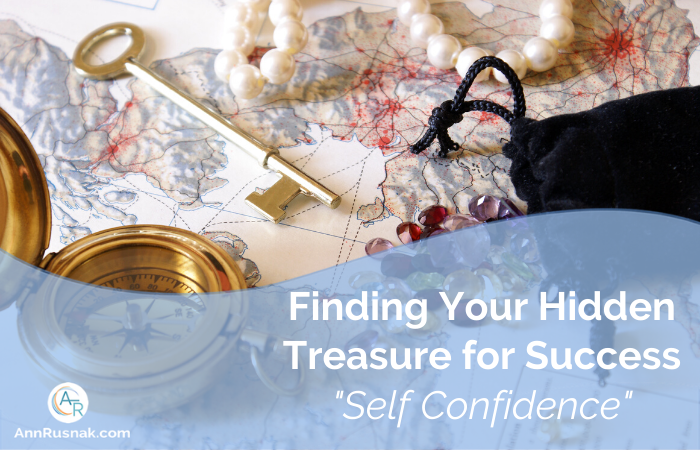 In Part One of this series, brief excerpts from The Journey to ME, you discovered the importance of owning your self-worth – your treasure chest of success within you. Whenever I share the concept of thinking about your worth as a treasure chest, the visualization of the chest within, allows one to start making breakthroughs on seeing themselves as worthy.
If you don't feel worthy, you block the prosperity and inability to manifest the dreams and abundance you desire.
Remember you don't come into the world with an empty treasure chest. The contents contained it assure your success, happiness and the prosperity you seek.
When you think of a Treasure Chest, what comes to mind? Precious gems? Pearls? Silver? Gold?
Of course, all of the above. A chest filled with riches that sparkle and shine when opened.
Each of the items (precious gems, pearls, silver & gold) in your chest represents a component of how you measure or see your perceived self-worth.
You do not need to change who you are. Remember yesterday's quote "You are the perfection of God's creation and the creation of God's perfection. That alone makes you a worthy person. God created you successful."
You did write this above phrase on an index card/post-it note right?
What needs changing is the "false" "wrong" perception you hold about yourself.
Let's start exploring the contents of your treasure chest starting with the gems.
Those gems represent self-confidence… a very necessary ingredient toward happiness and success.
What is self-confidence?
Self-confidence means you believe and have faith in your natural talents and abilities. self-confidence will release your inner success and attract your desires to come to you.
Unless you embrace your true worth, you cannot come close to achieving total self-confidence. The critical factor of recognizing your worthiness will build up your self-confidence.
Unless you embrace your true worth, you cannot come close to achieving total self-confidence.
You come into this world already equipped with natural abilities to ensure your success and happiness if they are properly recognized, nurtured and developed.
The gemstones in your treasure chest represent your natural abilities, skills, and talents.
Your gemstones start out as rough stones. Using your talents, abilities, and skills polishes and shapes them. Just like a gemologist turns rough stones into a sparkling gem. The more you use them… the more they shine.
Belief in yourself builds when you begin to accept and own your skills, talents, and abilities. Gaining faith in your innate abilities and talents will release the success within you.
You will find self-confidence present in people before they become successful. Once they start working toward success, usually self-confidence and success run parallel, each fueling the other. self-confidence positively recharges your mind.
The first step to self-confidence comes from identifying your "gems"… your talents and abilities… the gifts God placed within you. Once you find them or rediscover your rough gems… polish them into shining stones by using them.
Gemstones in the rough give hints of what they look like when cut and polished.
Your treasure chest contains both precious and semi-precious stones representing the potential for you to do many things.
Semi-precious stones fall into two categories:
Things you can do because of necessity and bring no real pleasure (these are the things you will outsource or delegate to someone else) and

Things you enjoy doing and bring you pleasure. (they do raise your happiness vibration)
The precious gemstones represent your Natural Ability.
These are the diamonds, rubies, sapphires, and emeralds in your chest and represent the few things you do extremely well with any real quality of excellence. These are your zone of genius items.
Self-confidence comes from a realistic assessment of your natural abilities toward your success, followed by a performance that matches or exceeds your expectations. The practical side of this equation comes from possessing a good knowledge of what you're doing, skills that complement your level of attainment and knowledge, and the physical fitness required to actually perform.
God doesn't give an idea or dream without giving you everything you need to see it realized. Those dreams and ideas are the polishing blanket and gem tools to bring out the shine of your talents.
Your growing confidence will support you on each step as you work towards success. And as you experience more success, your self-confidence will increase. It is important to develop a harmonious relationship between your confidence levels and the route you take to succeed.
Forget your failures – learn from them. Remember yesterday's story about Gwen and Eddie. He told Gwen "Those are just things you've done not who you are. People make mistakes. Who you are is just fine, more than fine."
You can avoid making the same mistakes again and again (hopefully). More important don't limit yourself by assuming if you failed before you won't succeed the next time. Your worth is not measured by your actions.
Try again, you're wiser and stronger. Don't let the past keep you trapped!
Action Step: Make a list of your talents and skills
See you next week with Part 3. Letting of go of society's expectations and feel comfortable being you.
Discover the 7 Steps to Unstoppable Success to own your worth and embrace your true self for the confidence to break free from the limiting money beliefs holding you back from achieving your desired dreams and business.
Get your copy of The Journey to ME… include the free Unstoppable Success Kit.($97 value)
Stay Unstopulous,