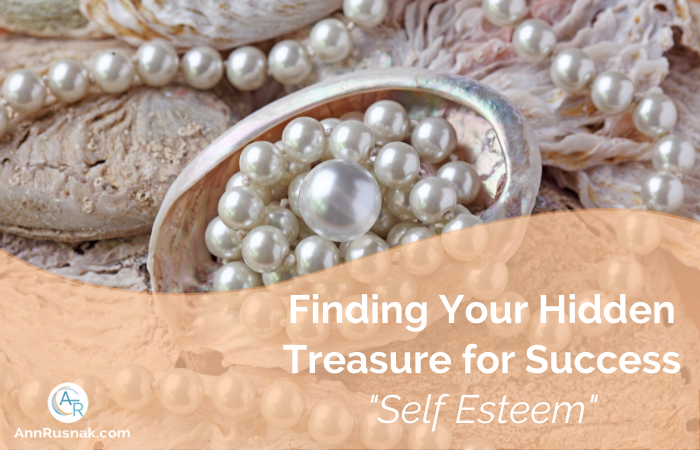 Starting with part one of finding your hidden treasure for success, you began the journey to your true self, your inner Magical Essence™… what I often refer to in my book The Journey to ME.
You didn't wake up one morning and suddenly find yourself in your current situation. It took years for you to arrive at this point in your life. If you want to change the direction and experience the success you're meant to enjoy, you must make yourself a priority.
Often low self-worth, low self-esteem, low self-confidence, and self-hatred gets passed down from generation to generation. To heal future generations from this destructive cycle, you must heal yourself first.
During recovery from childhood abuse, my psychologist gave me the permission I would not give myself. She permitted me to dedicate time for me to heal and recover.
Until you come to regard yourself highly without guilt, I permit you to dedicate time to use and explore the contents in your inner Treasure Chest for Success.
Everything you need to live the life you're meant, to bring your dreams to reality, you'll find within because success already resides within you.
Everything you need to live the life you're meant, to bring your dreams to reality, you'll find within because success already resides within you.
Did you know regarding yourself highly with a favorable opinion reflects high self-esteem?
Understanding the Importance of Self-esteem
The word esteem means "the regard in which one holds…"
You can choose to regard yourself highly or regard yourself lowly.
Your Self Esteem generates from within you. It's how you see and think about yourself. Self Esteem is your attitude toward yourself. Your attitude dictates your behaviors and habits
Your potential to achieve what you most desire directly relates to your level of self-esteem.
High self-esteem means a good opinion of yourself and
low self -esteem means an unfavorable opinion of yourself.
Your self-esteem is the "natural" pearls in your treasure chest.
I'm emphasizing the "Natural" here…
The Natural Pearl – Who You Truly Are
Did you know the pearl is the only jewel that can be worn naturally? No polishing or cutting to bring out its beauty.
A natural pearl is found in about 1 out of every 10,000 oysters. The sheer rarity drove the value of the natural pearl to the highest level and except for the diamond, it was valued above all other gems.
"The pearl owes nothing to man. It is absolutely a gift of nature on which man cannot improve."…quoted from the great gemologist of the late 19th century, George Fredrick Kunz.
Natural pearls are not always perfect. It is specifically this individuality that makes natural pearls unique jewels.
Natural pearls are even rarer today with the introduction of the "cultured" or "man-induced" pearl. A natural pearl is made totally by nature with no interference by man.
So are you… you are a creation of God's perfection and the perfection of God's creation.
The Cultured Pearl – What Society Says You Should Be
A cultured pearl can still be considered "natural" because mother nature alone creates them, but the process is influenced by human interference. Someone will insert an irritant into the oyster to begin the process required to create a pearl.
While natural pearls come in a wide variety of shapes, sizes, and qualities, cultured pearls could now be "designed" round or any desired shape from the start by a specific irritant.
If one were to look at the exterior of a natural and cultured pearl, they may look identical. The only definitive way to tell the difference between a natural pearl and cultured pearl is to take an x-ray of the pearl.
It's the inside of the pearl that makes it a natural or cultured.
Think of the negative input from parents, friends, and family as the human intervention in creating a cultured pearl. It prevents you from seeing your true worth as a natural pearl.
How are you seeing yourself… cultured or natural?
Do you worry what others think about you?
Do you use perfectionism to cover up the natural you?
Time for you to remove the cultured pearls from your inner treasure chest and let your true self shine.
Noted psychotherapist Nathaniel Branden is well known for his work in the psychology of self esteem.
According to Branden, self-esteem is the sum of self-confidence (a feeling of personal capacity) and self-respect (a feeling of personal worth).
I'll see you later with part four to examine the silver pieces in your chest that represent your self respect/love.
Discover the 7 Steps to Unstoppable Success and embrace your true self for the confidence to break through the limiting belief holding you back from achieving your desired lifestyle and business.
Get your copy of The Journey to ME… includes a free Unstoppable Success Kit.
Stay Unstopulous,